Blood Flow Restriction (BFR) training has gained momentum in the health and fitness industries, revolutionising the way we approach rehabilitation and muscle development. We'll explore the intricacies of BFR, unravelling the mechanisms that make it a game-changer in the fitness world.
Decoding Blood Flow Restriction
BFR involves the intentional restriction of blood flow, either partially or fully, to a limb or group of muscles. The goal? To induce metabolic stress akin to that experienced during intense exercise, particularly under heavy loads. This is achieved by employing a pneumatic cuff around a limb, inflated to a predetermined level. This inflation effectively halts venous flow, limiting or fully obstructing arterial flow. When coupled with passive, resistance or aerobic training, BFR becomes a powerful tool for enhancing the rehabilitation process.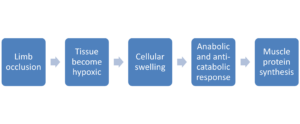 Thresholds and the BFR Advantage
In a typical workout, whether focused on strength, aerobic or anaerobic training, physiological changes in muscle tissue require meeting a specific threshold. For instance, lifting a 1kg dumbbell for 3 sets of 10 may not elicit the necessary intensity for muscle mass growth. Traditional wisdom dictates lifting at 70% of one's one-repetition maximum (1RM) to trigger metabolic changes and stimulate muscle growth.
However, not everyone can attain this level of intensity. Individuals in pain, post-operative patients, or those in the acute phase of injury face significant challenges. This is where BFR steps in, offering a unique advantage. By allowing individuals to work at a lower intensity (20-40% of 1RM), BFR opens the door to improvements that would be unattainable without this revolutionary technique. The restriction of blood flow mimics the conditions of higher-intensity exercise, leading to physiological changes conducive to increased strength and hypertrophy.
The Physiology Behind BFR
Understanding the physiological mechanisms at play during BFR training is crucial. The sequence involves limb occlusion, leading to tissue hypoxia, cellular swelling, anabolic and anti-catabolic responses, and ultimately, muscle protein synthesis. This mirrors the metabolic processes observed during high-intensity training, with the key difference being the initiation of tissue hypoxia and cellular swelling through the application of the occlusion cuff.
Practical Applications of BFR Training
BFR can be seamlessly integrated into various fitness routines, making it accessible and beneficial for individuals across diverse health conditions and fitness levels. 
Book an appointment with Cairnhill Physiotherapy today.