Initially known as KAATSU training, Blood Flow Restriction was developed in Japan in the late 1960s. In more recent years it has become more popular in the health and fitness industries. But what exactly is blood flow restriction? The basic concept of BFR is the full or partial occlusion of blood flow to a limb or group of muscles to stimulate metabolic stress. This is like that which is created during exercise, especially heavy load exercise. Occlusion is achieved using a pneumatic cuff placed around a limb and inflated to a precalculated level to stop venous flow and limit or fully occlude arterial flow. Blood Flow Restriction is combined with passive, resistance, or aerobic training to enhance the rehabilitation process.  This blog is part one of two and will investigate the mechanisms behind BFR training to help us better understand it. The following blog will delve into practical applications of BFR training.
When carrying out a normal workout whether that is strength, aerobic or anaerobic training to make a physiological change in muscle tissue, a person must meet a threshold to ensure these changes occur. For example, at the gym, if a person was doing 3×10 1kg dumbbell curls in the hope of increasing their muscle mass, the chance is they are not getting close to any threshold of change. To increase muscle mass, a person generally must lift at 70% of their 1RM (70% of the maximal amount they can lift one time), this intensity is considered enough to create a metabolic change and stimulate muscle growth.
Working at a level of 70% 1RM is something that is not achievable for the entire population. Individuals who are in high levels of pain, post operative patients, those with other comorbidities, or those in the acute phase of injury. These types of individuals are where BFR comes into a class of its own. Blood Flow Restriction allows individuals to work at a low level of intensity (20-40% of 1RM) and still have improvements.  The restriction of blood flow to a tissue from wearing the cuff creates an environment like that of a higher intensity exercise. Resulting physiological changes that lead to increases in strength and hypertrophy. Without BFR, these changes would be unachievable at such a low intensity of exercise.
The following diagram is a simple breakdown of the physiological mechanisms involved in Blood Flow Restriction training.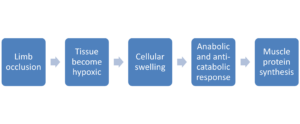 This is a similar metabolic process that occurs during high intensity training, but the tissue hypoxia and cellular swelling are caused by the physical demands of the training rather than an occlusion cuff.
Blood Flow Restriction training allows us to work you at a lower intensity to gain similar improvements as lifting heavier weights. Our next blog will discuss a more practical applications of Blood Flow Restriction training.